Thank you, Emmalee Sutton!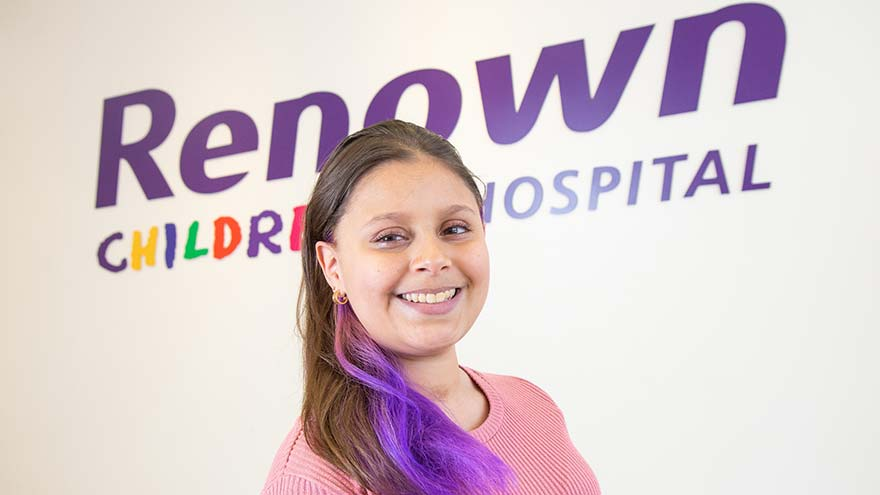 Every year, 170 Children's Miracle Network Hospitals (CMNH) across the country name a champion in each of their local communities who will serve as the face for children treated at their community's children's hospital.
Emmalee Sutton, 16, served as Renown Children's Hospital Champion Child for the past two years, raising awareness for children's healthcare in northern Nevada and across the nation.
A Fighter from the Start
Emmalee was diagnosed at age two with autoimmune hepatitis and Addison's disease, which means her body underproduces critical hormones. It also means that, from an early age, Emmalee spent a lot of her time within the walls of Renown Children's Hospital.
She has endured a long road of illnesses and hospitalizations since, including her gallbladder being removed at age eight, port surgery at 13 and she has received several liver biopsies over the years. However, this disease does not define who Emmalee is; in fact it empowers her to be a fighter for herself and for other kids just like her who are battling disease and illness from a young age.
Despite these challenges, Emmalee is a source of hope and inspiration to everyone she meets, never allowing her medical conditions to hold her back. Emmalee knows her story will inspire other young patients to continue fighting and believing in themselves.
"Instead of complaining about all the things I can't do, I celebrate all the things I can do," Emmalee said.
A Voice for Kids and Families Like Hers
In her time as our Champion Child, and even well before the official title, Emmalee was a spokesperson for all the children in our community who need care.
Since moving into the role of Champion Child in 2021, Emmalee has accomplished an impressive amount over the past two years. To name a few, here are some accomplishments Emmalee has achieved as Renown's Champion Child:
In September 2021, Emmalee was awarded the Reno PBS Spotlight Award for Extraordinary Youth. She was highlighted as an individual who makes a positive impact on her community. For her efforts, Emmalee was honored with a $1,000 award, which she generously donated to Renown Children's Hospital.
Emmalee's commitment to Renown inspires us to continue Fighting the Good Fight for our youngest patients, so we can continue to provide the best care for kids like her.
Dream it, Wish it, Do it
While Emmalee's tenure as Champion Child ends this month, her passion for helping members of our community is just getting started.
Inspired by her drive to work with young girls, Emmalee is taking a counselor-in-training course with the Girl Scouts. She is excited to shape the future of these girls' lives by being a mentor and leader. She has been a Girl Scout for nine years and gives credit to the organization for making a positive impact on her life and contributing to many of the leadership qualities she possesses today.
"The Girl Scouts has helped me understand that I am a strong, independent, compassionate young lady, and I use those thoughts whenever I am having all the health issues I have had to endure," Emmalee said.
What else is next for Emmalee? She hopes that being a Girl Scout and training to be a counselor will help her achieve her long-term goal of becoming a pediatric nurse. "I can't thank the nurses and doctors at Renown enough for the love and care they have given me and continue to do so. They are my inspiration!" she said.
But for us, Emmalee is the inspiration. From all of us at Renown, thank you, Emmalee. You motivate us to be our best.
---
How You Can Help Make a Difference
Renown Health is focused on being the destination for all your family's health and healthcare needs. As a not-for-profit health system, Renown relies heavily on community funding. If you are interested in supporting Renown Children's Hospital, and kids like Emmalee, please consider giving to Renown Health Foundation. Donations are accepted through the following ways:
Make a gift at renown.org/give
Call Renown Health Foundation at 775-982-5545
Mail a check to Renown Health Foundation, 1155 Mill St., 02, Reno, NV 89502