Renown Children's Hospital Announces 2023 Children's Miracle Network Champion Child
Renown Children's Hospital and Children's Miracle Network Hospitals (CMNH) are excited to announce Shaylie Edwards as the 2023 Champion Child. A fighter from a young age, seven-year-old Shaylie has overcome many challenges in her short life. In 2019 when she was three, Shaylie was hit by a car while using a crosswalk with her father. She was admitted to the Wilbur D. May Pediatric Intensive Care Unit (PICU) at Renown Children's Hospital and stayed there for three months.

A video introducing Shaylie and her journey can be found here.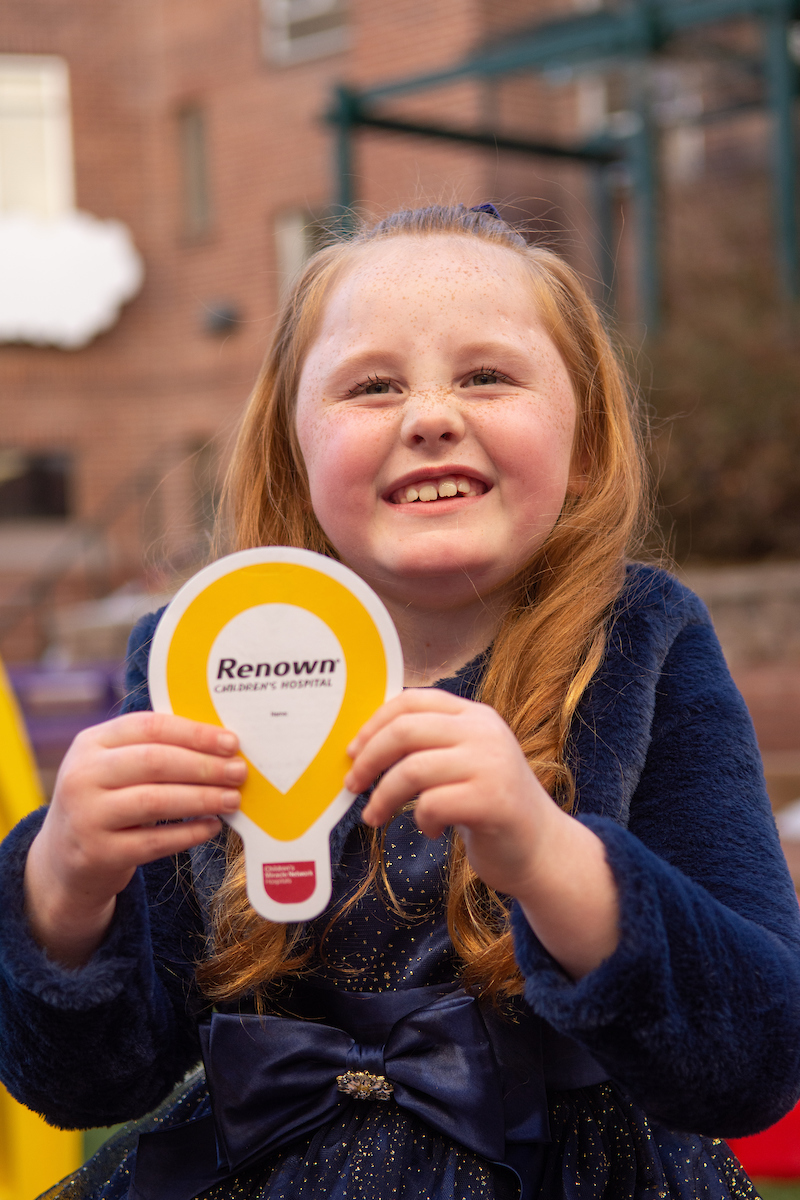 Shaylie's mom, Erica Edwards reports that as a result of the accident, Shaylie has been treated by Renown Children's Hospital physicians, nurses and team for a broken neck in two places, a broken jaw in two places, a fractured sacrum, a broken femur and three small brain bleeds. She has been in outpatient therapy for the last three years and continues making strides daily.

"Shaylie's perseverance, dedication and joy inspires all of us at Renown Children's Hospital," said Kristina Deeter, MD, MBA, FAAP Physician-in-Chief, Renown Children's Hospital and Chair of Pediatrics, University of Nevada, Reno School of Medicine," (pictured right with Shaylie). "It has been an incredible joy to witness her progress and to care for Shaylie and her family. We are thrilled she has been chosen to share her story with the world." 

The New England Journal of Medicine cites preventable injuries as the number one leading cause of death among children. This includes motor vehicle accidents, firearm injuries, drowning, poisoning, burns and suffocation. According to Safe Kids Worldwide, an average of 155 children under the age of 10 die every year as a result of pedestrian injury, with 64% of those involving motor vehicles. Across the U.S., due to distracted driving, a pedestrian is killed every two hours and injured every seven minutes. Most drivers feel they can safely take their eyes off the road for 0-2 seconds, but a car can travel the length of a football field in 5 seconds at 55 MPH. Shaylie's family and the team at Renown Children's Hospital urge drivers to be fully aware and eliminate distractions while driving. 

"We were in the Wilbur D. May PICU for three months and the first five days were very iffy. We did not know if she would come out of her coma, but Shaylie is a fighter. The care team at Renown Children's Hospital made me feel at home and like we were all going through this together," said Shaylie's mother, Erica Edwards. "Shaylie's recovery was a collaboration between doctors, nurses, and our family. Together we were there to support Shaylie, who has proven to us repeatedly that she has a greater purpose in life."

"It was heartwarming to meet Shaylie and her family," said Dr. Brian Erling, MBA, CEO of Renown Health. "Shaylie is truly a champion! She and her family have faced life's unanticipated events with strength and resilience. Despite the struggles, they have carried on with hope and determination. They find joy in life every day and inspire us all. We have much to learn from their example."
Through Renown Children's Hospital, Shaylie and 100,000 area children now have access to more than 60 pediatricians, including those specializing in adolescent medicine; anesthesia; cardiology; craniofacial surgery; dentistry; ear, nose and throat conditions; emergency medicine; endocrinology; gastroenterology; general pediatrics; hospitalist medicine; intensive care; neonatology; neurology; oncology; ophthalmology; orthopedics; psychiatry; psychology; pulmonology; surgery; urology and other subspecialties previously lacking in the community, as well as a pediatric emergency room, pediatric ICU and contemporary healthcare services at Renown Children's Hospital. Prior to 2016, about 30% of all pediatric patients had to leave northern Nevada to receive the specialty care they needed. Now, thanks to donor support, Renown estimates that 97% of all pediatric patients and their families can receive both general and specialty pediatric care locally. The next nearest children's hospital in the state is 7 hours or 438 miles away in Las Vegas.

Renown Children's Hospital is proud to be the only CMNH hospital in northern Nevada, one of only 170 premier children's hospitals in North America. Shaylie will serve as Renown Children's Hospital's CMNH Champion Child for the next year, shining as the face of the hospital in the community and sharing her inspiring story. Renown Health Foundation oversees the local CMNH programs and its fundraising. One hundred percent of all funds raised by CMNH partners stay local to support children and families in our community. Your generous support affords much-needed items to help our littlest patients cope with the potential stressors associated with hospitalization and illness. To donate, visit www.renown.org/donate.